Content of the article
Sticking to his community has led one High River entrepreneur to sell his products at an upcoming market.
Content of the article
Dustin Rothwell, a client at Foothills Advocacy in Motion in High River, started making the canes about two years ago. Rothwell clubs will be on sale at the FAIM Entrepreneurs' Market on November 19 at the FAIM office in High River.
"I have walking (sticks), canes, walking sticks, talking sticks, blessing sticks, happy sticks…" Rothwell said. "We go around town looking for sticks. We have diamond willow, birch, caraganas…"
The market will feature FAIM customers selling their designs, thanks in part to the organization's FAIM employment grant, which was established about two years ago.
FAIM helps adults with developmental disabilities live and work in their communities.
"We were just coming out of the pandemic and we (customers) had lost a lot of work," FAIM chief executive Gary McCallum said. "We created a grant to help people start a business… It was just a little seed money for them."
Content of the article
The upcoming market will be the first event of its kind for the program.
"We've been good at giving people seed money, but we haven't really gone all the way in helping the respective customers sell their products.
"Hopefully the market will help that."
Rothwell started his cane business with a scholarship.
"We wanted to do something outside of work and we talked to the higher ups and they gave us a scholarship," Rothwell said.
"We" are Rothwell and FAIM job coach Doug Elliott, whom Rothwell calls his teacher. They work on the sticks together three times a week.
The market will provide a different learning experience.
"This will help Dustin talk to customers and improve his stick sales," said Elliott, who added that Rothwell's confidence has grown with the stick business.
Content of the article
It takes some work to make a stick out of something Mother Nature has thrown away.
"We must peel, sand, stain, Varatan," said Rothwell. "We burn, engrave, and insert crystals into custom-made sticks…"
Rothwell's stick business is starting to take off.
He recently sold a stick to a customer with First Nations heritage. This stick included crystals and feathers upon request.
In the past eight months, he has sold bats with a Neil Young quote for the slow runner, one with an
A recently retired High River attorney had an Abraham Lincoln quote for the walk, another had the Rotary Club motto engraved on it. This stick was donated and sold at a Rotary event.
Elliott helped create a stick complete with a 20-sided cube for the Dungeons and Dragons enthusiast.
Content of the article
Rothwell always includes their trademark marble in every stick.
"It's just in case you lose the balls, we'll get you an extra one," Rothwell said with a laugh.
Rothwell's wands are also on display at The Daily Male hair salon in High River.
Good yarn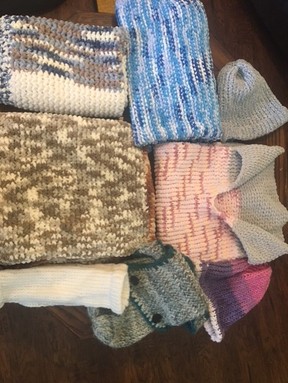 FAIM has helped one client save for an upcoming vacation.
"During the pandemic, I started knitting with a loom and learned by watching YouTube videos," Kristen said. "And I just grew into a few more projects."
Her friends at FAIM noticed her work, and she was initially able to sell a few toques to her peers for $20.
However, Kristen's knitting career really took off when she received a $350 grant from FAIM just over a year ago.
"I bought yarn with that money," Kristen said.
Content of the article
She has used the proceeds from her start-up to help buy knitting supplies and just for fun.
She is looking forward to adding to her funds at the November 19 market.
It will be a learning experience for her, selling her products in a public market for the first time.
"I have to appreciate all the things that I have," Kristen said. "I'm excited."
There will be plenty on her table. The initial click on YouTube has seen Kristen knit toques, blankets, leg warmers that would make Jane Fonda swoon, and more.
She has already come out ahead. The FAIM program has contributed to something just as important as Kristen's bank account.
"It gave me more confidence that I was useful," Kristen said. "I help people stay warm for the winter, and that helps me learn how to run a business – doing receipts, counting money, stuff like that."
Content of the article
While Kristen's work has helped residents of the High River area stay warm during the winter, it will help keep the warm season going.
She is saving up for an upcoming trip to Mexico.
A hit on the right wire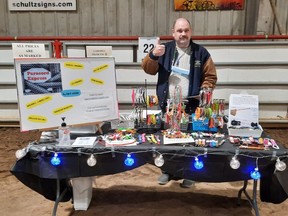 A FAIM customer is using materials once used in warfare to help people keep track of their car keys.
"I sell products made out of paracord," said Kyle Goode. "Paracord was used by paratroopers in WWII and other conflicts. They would use it as a survival kit.
Paracord products are part of the Goodes family history.
"My dad (Greg) learned how to do it first, and then he taught me," Goode said. "I use paracord to make a variety of products, from key rings to Christmas decorations. I'm just now starting to develop it.
Content of the article
He said he chose paracord because it is a material that lasts longer and is easier for customers to maintain.
Goode received the funds to get started through a FAIM grant.
"It started during the pandemic and it helped me get the materials and equipment I needed," Goode said.
He has participated in other markets in the past, but the FAIM market provides further opportunities.
"Markets can be expensive to enter," Goode said. "Getting into the market like FAIM does helps me get my name out there."
The paracord business has helped open Good's mind.
"It's mainly helped creativity, among other things," he said. "Learning how to do it and new ways to use it."
Knock on wood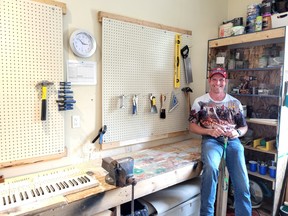 Christmas will be on display at one customer's table in the market.
Content of the article
Robin McCormick will be selling his woodwork, from dominoes to Christmas decorations.
"I love doing it," McCormick said of his job, adding that it makes him feel happy and relaxed.
His pieces have been for sale in the past, most recently at the Dawn of the Dead Market in late October.
"I feel good when I sell something," McCormick said.
He has been working with the help of Dean Goll of FAIM for about six years.
"Robin has obviously gotten a lot better in the wood shop," Goll said. "Now it's easier for me to see what he really likes and I can apply that in the woodworking shop."
Being able to sell products makes work more than a hobby – it's an event.
"It gives us a purpose," Goll said. "And eventually, if we sell something, we can buy things for the business."
McCormick plans to purchase a new glue gun using the proceeds from the sale of his products.
The scholarship program has been successful, and in total, FAIM offices in Okotoks, High River and Strathmore have about 10 businesses.
The FAIM Business Market will also feature merchants from the community to help increase selection at the event.
The High River FAIM office is located at 126 9 Ave. SE, on the same cul-de-sac as Triple K Autobody. The event runs from 10 a.m. to 2 p.m. There will also be a bake sale at the market.